Programs

Brochure
This page is the brochure for your selected program. You can view the provided information for this program on this page and click on the available buttons for additional options.
Drexel in Costa Rica: International Center for Development Studies (ICDS)
San Jose, Costa Rica
(Outgoing Program)
The Program
The ICDS Costa Rica program is a wonderful opportunity to live, study and even co-op in Costa Rica. Students spend
one or more terms in San Jose with the International Center for Development Studies (ICDS). Through the program, students acquire in-depth knowledge and hands-on experience on the multidimensionality of sustainable human development and the current challenges faced by the region. For more information please visit http://www.icds.ac.cr/
The Academics
Drexel students take courses on a variety of topics depending on their area of interest. All students take a Community Engagement course and a Spanish language course based on their language level. Courses are held at ULatina and the majority are ta

ught in English, though students may opt to complete their coursework in Spanish if desired. S

tarting Fall 2016, there will be elective courses in fall and winter terms that are taught in Spanish for students with an advanced Spanish.

Local Costa Rican students will also be part of the programs, providing even more contact and immersion into Costa Rican culture. The courses are structured around lecture, student projects and participation, and presentations by field professionals. Faculty members are primarily Latin American scholars with international experience and education. The ICDS program also includes field trips and cultural activities to enhance the learning experience.

The language pre-requisite for this program is Spanish 101, or the equivalent. To advance their language skills more quickly before studying abroad, students should consider taking more language courses on campus during their co-op terms. For more information please contact Modern Languages Department at 215-895-5816.

Credit/Grades: Students will receive Drexel credit and grades for the courses taken on the ICDS program.
Fall or Winter Program: Development Studies in Latin America
Students take 5 courses for 20 Drexel credits. (Each course is worth 4 credits)

Students take 2 required core courses:

Community Engagement & Sustainable Human Development: A Service Learning Course
Spanish Language

Students also choose 3 of the following elective courses: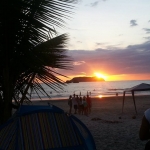 Development in Latin America from a Gender Perspective
Human Rights in Latin America: A Critical Approach
Democracy in Central America: And Ongoing Question
Current Environmental Issues in Latin America
Rural & Urban Sustainable Development
Sustainable Tourism & Local Development
Literatura Centroamericana (taught in Spanish)
Latin America: A Mirror of Reality Through Film

**If fewer than 6 students sign up for any elective course, it will not be offered that term and students will have the option to choose another course.
Spring Program: Language, Culture, & Development in Latin America
Students take 3 courses for 15 Drexel credits:.

Culture, Diversity, and Development in Central America (4.5 credits)
Latin America: A Mirror of Reality Through Film (4.5 credits)
Spanish Language (6 credits)

All courses on the ICDS program have been pre-approved for Drexel credits and equivalents.
View ICDS-Drexel course equivalents here

Program Calendar
Students may choose to participate in any of the following program options, depending on their interests, co-op cycle, and whether they prefer a study only or a study + co-op in Costa Rica option.

Fall study only: early Sept - late Nov (12 weeks) Students may need to leave summer term early.
Winter study only (ICDS' Spring Semester): mid Jan- mid April (12 weeks)
Spring study only: mid March - early June (10 weeks)
Winter study + Spring/Summer Co-op: mid Jan - mid Sept (9 months)
Fall/Winter study + Spring/Summer Co-op: early Sept - mid Sept of the following year (12 months)

Students should prepare to make adjustments and be flexible in fitting this program into their Drexel schedule. Due to the need for cycle adjustments, students should begin planning 12-18 months in advance.
The Experience
Read first-hand about life on the ICDS program in Costa Rica on a Drexel student's blog!

Watch the ICDS program video; view a video about the Tortuguero excursion to Nicaragua; and watch a video about the community work experience in ICDS´ field trip to Pacuare.

San José is a cosmopolitan city with many cultural and recreational activities. It is located in Costa Rica's Central Plateau, surrounded by beautiful mountains and volcanoes, and within driving distance to the Pacific coast and Atlantic coasts. The urban transportation system is quite efficient, and you can take a bus to just about anywhere in the country.
Activities: Upon arrival, students receive a 2 day orientation, which provides students with insights and strategies to better manage the process of integration to a new cultural context, while allowing group interaction and integration. The program also includes field trips (one international for fall and winter programs) into other parts of Costa Rica to enhance your experience of the culture.

Housing: Drexel students will be housed with a host family in Costa Rica. ICDS's experienced home stay coordinator is in charge of the selection of host families and the placement of students with an appropriate one, as well as of the follow-up on the student-family relationship to solve any problems that may arise. Check out the ICDS program video on homestays.
Visa: US citizens on ICDS's fall only, winter only, or spring only programs will not be required to obtain a visa, as the program is less than 90 days. Students remaining in Costa Rica for more than 3 months and/or students who are not US citizens may be required to obtain a visa. Students may contact the Embassy of Costa Rica for more information.
Cost & Financial Aid
This is a Drexel sponsored program, thus your Drexel tuition and financial aid remain the same during your term(s) abroad. For additional program cost and budget information, please view the budget sheet linked at the top of this page. Students may also want to submit a revised budget to Drexel Central to see if additional funding may be available.

Students who receive Federal Work Study should consider applying for the Study Abroad Online Journalist work study position (after acceptance). To seek additional funding, review the Scholarship & Funding Opportunities. Remember that scholarship deadlines may be much earlier than study abroad deadlines, so plan accordingly.
| Term | Year | App Deadline | Decision Date | Start Date | End Date |
| --- | --- | --- | --- | --- | --- |
| Spring | 2016 | 11/15/2015 | 12/01/2015 | TBA | TBA |
| Fall | 2016 | 02/01/2016 | 03/01/2016 | TBA | TBA |
| F/W/SP/SU | 2016-2017 | 02/01/2016 | 03/01/2016 | TBA | TBA |