Programs

Brochure
This page is the brochure for your selected program. You can view the provided information for this program on this page and click on the available buttons for additional options.
GE3: France, Institut National des Science Appliques (INSA Lyon)
Lyon, France
(Exchange Program) (Outgoing Program)
The Program
The Global Engineering Education Exchange (GE3) is an international exchange program for College of Engineering, iSchool and Biomedical Engineering majors to study in one of 5 countries, fully immersed into the education, culture and daily life of their host country. This is a fantastic opportunity to perfect your French language skills, make new friends and explore your academic interests from a French perspective.
Located on the premises of the Science and Technological Park of la Doua in Villeurbanne, INSA Lyon is ranked among the top universities of Science and Technology in Europe, multidisciplinary and international, at the heart of the European Higher Education Area.

For more information review the GE3 exchange website.
The Academics
INSA Lyon offers courses both French in English, including a specialized track in Information Technology taught in English (see below). Students planning to take coursework in French should complete FREN 203 prior to study abroad. To expedite language learning, students should consider taking French during their co-op terms. For information contact Modern Languages Department at 215-895-5816.

Majors Available at INSA Lyon
-- Biochemistry and Biotechnologies
-- Bioinformatics and Modeling
-- Civil Engineering and Urbanism
-- Electrical Engineering
-- Energetics and Environmental Engineering
-- Industrial Engineering
-- Information Technology & Computer Engineering
-- Materials Science and Engineering
-- Mechanical Engineering and Plasturgy Processes
-- Mechanical Engineering Design
-- Mechanical Engineering Development
Please review the Course Catalog and English Course List

French Language Intensive: INSA Lyon offers the option of an intensive French course (for additional fee) before the beginning of both fall and spring semester. Students taking coursework in French are strongly encouraged to consider this option.

INSA Lyon Course Equivalents Lists of INSA Lyon courses that have been pre-approved for Drexel credit. Students can choose to take courses from this list, but there is no guarantee that these courses will be offered in the future. Students are welcome to take course that are not listed, but pre-approval by the corresponding Drexel department is required.

Course Approvals: Courses in the catelog that have not been pre-approved will need approval by the appropriate department at Drexel. For example, if you want to take a marketing course for Drexel credit, the Marketing Department must pre-approve the course and its equivalent.

Credits/Grading: Students are taught by French faculty. Grades are listed as credit/no credit (CR/NCR) on their Drexel transcript and will NOT affect GPA. To receive CR students must earn a "C" or above. Students must be a full-time student at the host institution (between 15-30 ECTS credits per semester) while taking the equivalent of a full-time load at Drexel (12 – 20 credits.
Fall Term: mid Sept – January
Spring Term: Feb – mid June

*Students should prepare to make adjustments and be flexible in fitting this program into their Drexel schedule and should begin planning 12-18 months in advance.
Information Science & Technology English Option: Fall term of junior year
The IST English option is jointly organized by three engineering departments of INSA Lyon (Telecommunication Department (TC), Computer Sciences and Engineering Department (IF), Electrical Engineering Department (GE) in collaboration with three research laboratories. Students take scientific courses, a French language course, and complete a research project. Read more about the program.

IST Coursework: Students take 6 of the 12 courses below. Review course descriptions
First part of the semester (8 weeks):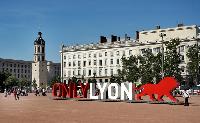 -- Networks - Part 1
-- Operating systems
-- Java programming
-- Data bases and data mining - Part 1: Data bases
-- Signal and image processing - Part 1: Signal Processing
-- Microwave systems for Telecommunications - Part 1: Transmission lines

Second part of the semester (8 weeks):
-- Networks - Part 2
-- Middlewares Architectures from ambient to cloud computing
-- Data bases and data mining - Part 2: Data mining
-- Signal and Image Processing - Part 2: Image processing
-- Software engineering
-- Microwave systems for Telecommunications - Part 2: Antennas and Propagation
Research and development project: conducted within one of the three research laboratories (CITI, CREATIS, LIRIS). Students will have to make a bibliographic study, to develop their own contributions that will be presented in a final report and during an oral presentation.
Experiencing INSA Lyon
The city of Lyon is the second largest in France with 1.2 million inhabitants and more than 120,000 students. Situated at the heart of Europe, Lyon is steeped in history and culture. It has a rich industrial network which includes many large companies. Its international scope and exceptional cultural environment have made it a powerful center of communication. Lyon is only 2 hours from Paris and less than 2 hours from Mediterranean south of France by train. There are many international and high speed trains (TGV) come into the city daily.

INSA Lyon offers on-campus housing. Students are encouraged to participate in student life activities on campus. For more information review the Exchange student information

Read a Drexel student blog on studying at INSA Lyon.

Visa: All student are required to obtain a visa for study in France. Visit the CampusFrance website to create an account and begin the visa application process.
Cost & Financial Aid
This is a Drexel sponsored program, thus your Drexel tuition and financial aid remain the same during your term abroad. For additional program cost and budget information, please review the Budget Sheet linked above. Students may also want to submit a revised budget to Drexel Central to see if additional funding may be available.

Students who receive Federal Work Study should consider applying for the Study Abroad Online Journalist work study position (only available to students after acceptance). To seek additional funding, review the Scholarship & Funding Opportunities . Remember that scholarship deadlines may be much earlier than study abroad deadlines, so plan accordingly.
| Term | Year | App Deadline | Decision Date | Start Date | End Date |
| --- | --- | --- | --- | --- | --- |
| Fall | 2016 | 02/01/2016 | 03/01/2016 | TBA | TBA |