Programs

Brochure
This page is the brochure for your selected program. You can view the provided information for this program on this page and click on the available buttons for additional options.
Drexel in Italy: American University of Rome (AUR)
Rome, Italy
(Outgoing Program)
Program Terms:
Fall

Program Dates &
Deadlines:
Click here to view
Restrictions:
Drexel applicants only
Budget Sheets
Fall

The Program
The Drexel in Italy program is offered in partnership with the American University of Rome (AUR). This program is open to all majors with priority given to Italian language students. Drexel students will spend the fall term in Rome and can choose courses from a wide variety of departments, such as Business, Art History, Communications, Italian Studies, and International Relations. All courses are taught in English except for courses in Italian Studies. What better way to spend your fall term than studying in the historic and culturally rich city of Rome!

This program has a ITAL 103 pre-requisite. Courses are taught in Spanish and English. This program is not available for seniors.

For more information about AUR click here.
The Academics
While courses at AUR are taught in English, Drexel students must complete Italian 103 prior to the program in order to fulfill Drexel's language pre-requisite. AUR offers a range of subjects such as political science, art history, business, Italian, communications, and more. Drexel students will be taking courses with local European and American students.

Course Catalog: Use this to search coursework offered at AUR.
Course Equivalents: This spreadsheet is a historical list of pre-approved courses Drexel students have taken there before. Students can choose to take courses from this list, but there is no guarantee that these courses will be offered in the future.

LUMSA Option for Advanced Italian Speakers: AUR also offers the option to take 1 course at the Italian university Libera Universita' Maria SS. Assunta (LUMSA). This is a great opportunity for students with strong Italian language skills to benefit from the best of two worlds: an American and an Italian education in the same city! This option has a pre-requisite of ITAL: 311 (or ITAL 203, if student takes ITAL 300 while at AUR).

How the LUMSA option works:
1. Students select 1 course from the LUMSA Pre-Approved Course List and 3 - 4 AUR courses.
2. Students attend the regularly scheduled LUMSA classes until the end of AUR's fall semester.
3. Students fulfill the the required readings for the LUMSA course.
4. Instead of the LUMSA final exam, students complete a research paper in Italian as well as writing a journal in Italian where they record their reflections upon their experience at LUMSA. An AUR faculty member will act as advisor for the research paper and grade the student's work. The research paper and journal must be completed during AUR's final exam period.

Grading: Students are taught and graded by the AUR faculty. The goal is to take the equivalent of a full-time load at Drexel. Depending on the courses, students can expect to take 4-6 courses per semester. The amount of class content time and work-load required is broadly similar to universities in the US. Grades earned at AUR will be factored into your Drexel GPA.
Program calendar
AUR is a semester school. This program is only available during the fall. Students with fall/winter co-op will need a cycle change in order to participate. Due to the need for cycle and program changes, please begin planning at least 12 months in advance.

Fall start: end August
Fall end: mid-December
Drexel students will need to either leave their co-op job early OR arrange for early summer final exams. Students applying for fall/winter must also be prepared to begin their proceeding spring/summer co-op late, at the end of April.

Click here for the AUR academic calendar.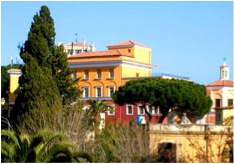 The Experience
Rome constantly conjures up vivid reminders of its glorious past as the city that built the greatest Empire the World has ever known. With its sunny climate, stately umbrella pines, and an unparalleled wealth of history around every corner, Rome's beauty quickly overtakes all who enter its ancient walls. A walk or bus ride through even the most commonplace quarters of the city yields encounters with innumerable monuments, towering pillars, and major imperial buildings that still stand imposingly just as they have for 2,000 years!

Overlooking the historical center, AUR is located on top of the Janiculum, Rome's highest hill. With its own garden of Roman pines it offers a spectacular view of Rome and the surrounding hills. The campus is near two city parks, Villa Sciarra and Villa Pamphili and historical landmarks. The area also hosts diplomatic residences and several international academies.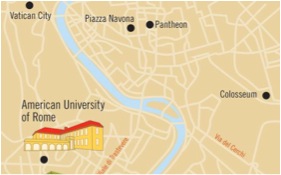 AUR's student body consists of approximately 500 full time undergraduates from 40 countries. Thus Drexel students will be in class with a very international mix of classmates. AUR has an urban campus and the compound is composed of 5 nearby buildings, which include an auditorium, spacious garden, student services, computer lab, classrooms, laboratories and faculty offices. Evans' Hall, a liberty villa of 1920, is the site of the library, student lounges and a beautiful outside garden. Carini 23, a five story building of the '70s designed by a famous Italian Architect (Paolo Portoghesi) is the location of design studios, faculty offices, and the Batista Multimedia Laboratory, a state of the art lab for film production.
Housing
Students live in fully furnished apartments, two students per bedroom, with a TV, a computer, wireless internet and fully furnished kitchens. There is no meal plan at AUR, thus students are responsible for their own meals. The cost of housing is included in the AUR program fee.

Visa
Students are required to obtain a visa for entry into Italy. This process may take 6-8 weeks so students should act early. Please note that in addition to the cost of the Italian visa, students will also be required to apply for a Permit to Stay upon arrival. All students will be required to pay additional € 195 directly to the servicing agents when completing their permit to stay registration.

For specific visa instructions, please refer to the Italian Embassy website.

COST & FINANCIAL AID
This is a Drexel sponsored program, thus all of your Drexel tuition and financial aid remain the same during your term abroad. Students will be billed a program fee of $5,400 by Drexel to cover housing and other miscellaneous costs. For program costs, please consult the budget sheet.

Students who receive Federal Work Study should consider applying for the Study Abroad Online Journalist work study position (after acceptance).

To seek additional funding, review the Scholarship & Funding Opportunities. Remember that scholarship deadlines may be much earlier than study abroad deadlines, so plan accordingly. Students may also want to submit a revised budget to the Financial Aid Office to see if additional funding may be available.
| Term | Year | App Deadline | Decision Date | Start Date | End Date |
| --- | --- | --- | --- | --- | --- |
| Fall | 2016 | 02/01/2016 | 03/01/2016 | TBA | TBA |